The Buzzoole family keeps on enriching itself with new tools to simplify the life of companies and agencies managing Influencer Marketing campaigns. After improving the performance area, today we present Buzzoole Tracker, a new feature that will meet the needs of many marketers dealing with "homemade" Influencer campaigns.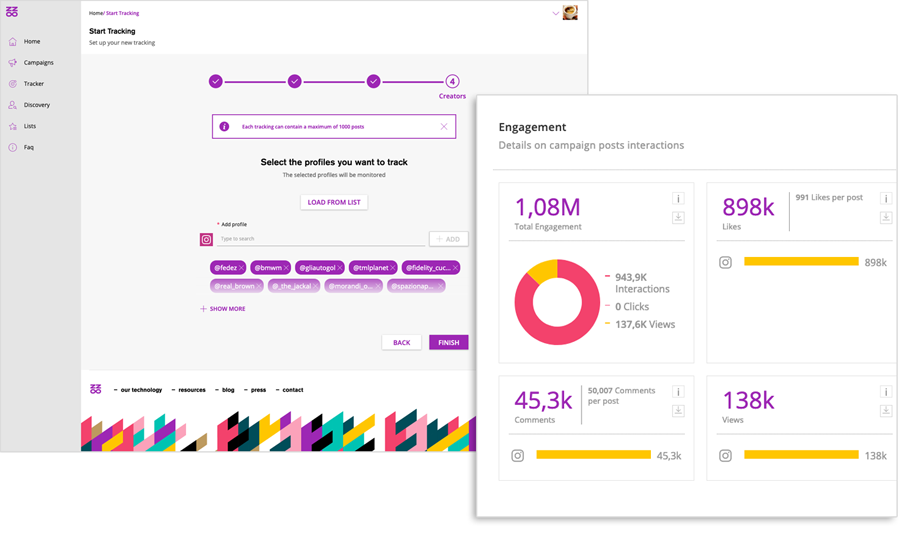 What is Buzzoole Tracker, and how can it help your Influencer Marketing campaigns?
Today, agencies and companies tend to manage their Influencer Marketing campaigns through processes that are sometimes confusing and complex. Among requests for screenshots to check the results of the content created and spreadsheets to be updated manually, managing an Influencer Marketing activity in this way can be extremely time-consuming and unreliable not forgetting that a screenshot can be easily manipulated. Buzzoole Tracker is a simple and effective solution to solve all these problems.
Purchasable as a Discovery add-on, Buzzoole Tracker allows you automatically monitor the progress of Influencer Marketing campaigns. To obtain a summary report of the results, simply specify the elements to track in four simple steps:
Select the social media channel where the campaign will take place, choosing from Instagram, TikTok, Facebook, Twitter and YouTube.
Choose the campaign hashtag to monitor and the time frame to consider.
Specify the brand account (your own or a competitor's).
Enter the profiles of the creators involved. You can also load a list previously created with Discovery.
Buzzoole Tracker can track all the content created by influencers, including Instagram Stories (except those created before the tracking started date, which can still be added manually at a later time). This innovation makes Buzzoole Tracker a complete tool that can provide in-depth monitoring of social media.
Below, you'll find a step by step video where we show you how to successfully track a campaign with Influencers.
Buzzoole Tracker for monitoring competitors
This tool's potential doesn't end here. When you know the hashtag and creators used by a direct competitor, it's possible to monitor the KPIs that competitor achieves and thereby accumulate valuable benchmarks for campaigns you want to run in the future.
In this way it's easier to discover industry's top trends and the hottest influencers, while always keeping a watchful eye on the Influencer Marketing market without ever being caught unprepared.
What needs does it solve?
In summary, this new tool responds to three specific needs a brand can often run into when creating campaigns with Influencers:
Automation. Buzzoole Tracker allows you automate the tracking of Influencer Marketing campaigns. In short, you no longer have to go through a thousand drive folders with unsorted screenshots or complicated spreadsheets!
Control. All the main campaign results can be monitored through detailed dashboards showing real-time aggregate data on reach, impressions, interactions, audience reached and other useful KPIs.
Intelligence. Finally, the Tracker is a highly powerful tool for analysing competitors' Influencer Marketing campaigns, studying trends, industry performance and the most involved influencers.
For a better understanding of how Buzzoole Tracker can help you monitor your Influencer Marketing campaigns, contact us.
This post is also available in: Italian